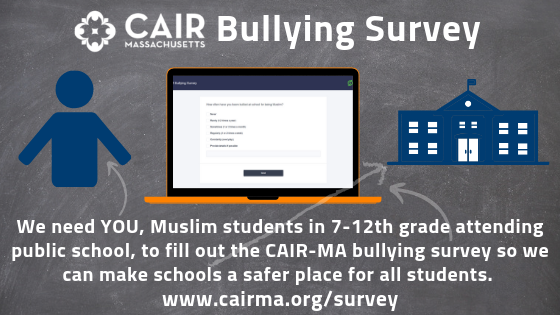 Every Sunday from 4-5 pm EST we will be hosting a Zoom meeting for young Muslims from across the state to take our first ever Massachusetts Youth Bullying Survey!
-Must be in grades 7-12 (entering 7th grade in the fall-entering 12th grade in the fall)
-Must be attending public school in the state of Massachusetts
-Must be self-identifying as Muslim
Currently, there is no existing, up-to-date data on the bullying of Muslim youth in Massachusetts or its impacts. We're gathering this data from across the state to not only understand the sources of Islamophobia but also enact laws and best practices locally that better protect our communities and our young people.
For parents, educators, and allies, please share this survey freely with young Muslims, families, educators, and youth advocates in your network!